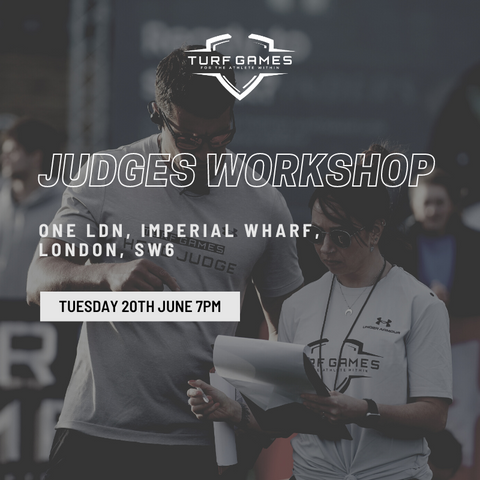 Turf Games JUDGES WORKSHOP June '23
Description
Tuesday 20th June 2023 - Judging at London Summer Festival or want to know more about functional fitness judging and build your knowledge and confidence? We are excited to host our third Turf Games Judges Workshop.
This session will be a very an informative discussion, Q&A and practical workshop built to empower you with the knowledge, skills and confidence to ensure you enjoy your day on the TURF, or at any functional fitness competition, while judging.  We will breakdown the key movements seen in functional fitness comps.
For those coming and judging at the Summer Festival, we will also be running through the London Summer Festival workouts and answering any questions to ensure judges are confident about the weekend ahead.
𝗪𝗛𝗘𝗡 - Tuesday 20th June, 7pm - 8.30pm
𝗪𝗛𝗘𝗥𝗘 - One LDN, Imperial Wharf the Blvd, Imperial Wharf, 3 The Blvd, SW6 2UB
𝗪𝗛𝗢 - Summer Festival judges + anyone who has judged or is interested in judging at functional fitness competitions and wants to learn more tips and knowledge around judging and build their confidence
𝗪𝗛𝗔𝗧 - A FREE 1.5 hour workshop discussing all things judging including standards, what to do and where to be during a workout and how to walk onto the workout floor with confidence. The session will also include practical demonstrations and a run through of the London Summer Festival workouts. Please wear fitness gear for the practical demonstrations.
We will have product from our partners to enjoy throughout the session.